[Search] [Links] [Copyright] [Powered By ...]
Home Pages and Other Links
Home > People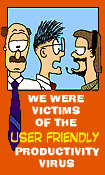 Personal Home Pages
You may want to check out these (rather stale) home pages:
Social Media Pages
We're more active on various media including, the following
Blogs
Facebook
Twitter
LinkedIn
Every Picture Tells a Story
We still have our gallery of bandwidth wasting images.
Other Links
Some other links to look into include:
A page describing our SPAM Policy.

A page describing our Privacy Policy.

The page that many of our plush creatures can't bear to be without, Gunderland, the home of Gund, Inc.

The other passion of our plush creatures, baseball. Specifically:
Note that most of these places are more interesting in three dimensions than in cyberspace. For example, who really needs a computer at a real ball game?
---